Regular price
$403.00 USD
Regular price
Sale price
$403.00 USD
Unit price
per
Sale
Sold out
Rare, Handcrafted Men's Sterling Silver Handcuff Bracelet - Unusual & Totally Unique!
This Unusual Keith-Style Bracelet is made of SOLID STERLING 925 SILVER (not plated or bonded)
 It's a good weight at around 93 - 109 grams (depending on length).
Each of the Handcuff Style locks are 4 cm x 3.5 cm (4mm thick approx)
The connecting links are around 1.4 cm x 1 cm.
Four lengths are available:
- 3 connecting links (good for 6-inch wrist) - total length 8"
- 4 connecting links (good for 7-inch wrist) - total length 8.5"
- 5 connecting links (good for 8-inch wrist) - total length 9.5"
- 6 connecting links (good for 9-inch wrist) - total length 10.5"
Sizes are ALWAYS quoted as closed "as worn/ fastened" not "end to end" so it is a true length.
Keith Style. Real Rock 'n' Roll!
Most designs can usually be made to order in any length, and many styles can also be made into necklaces.
Size Guide
Lead & Shipping Times

It is best to allow normal 6 weeks from the date of order. This and most designs are individually hand-made, to order - 1 by 1 ... nothing mass-produced here :-)There is a reasonable chance it could be ready earlier than normal, however, best to think of that as a bonus, if this is the case.

If your order has urgent deadline please contact us
Share
View full details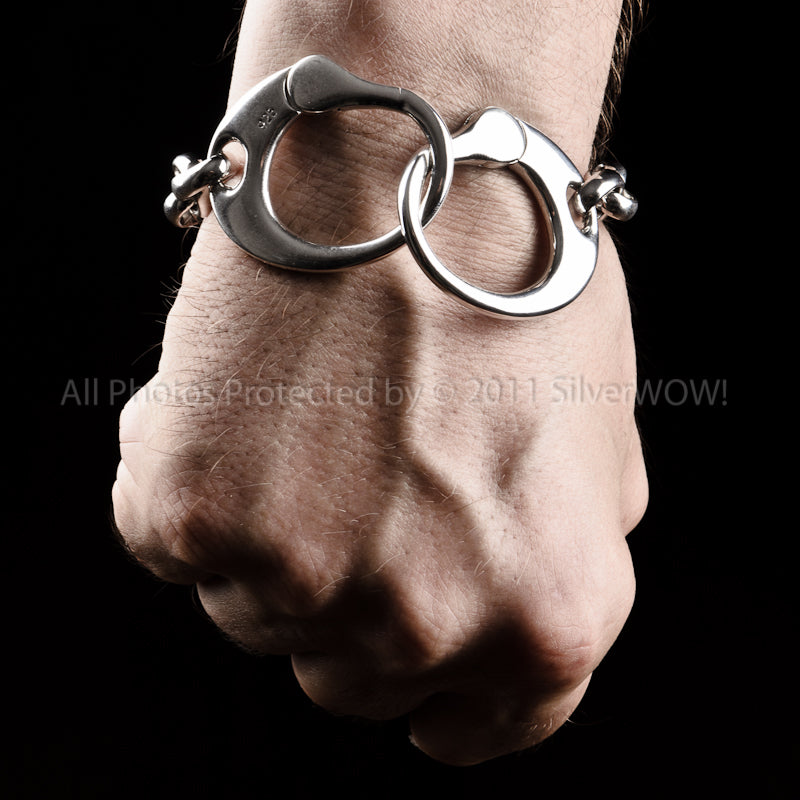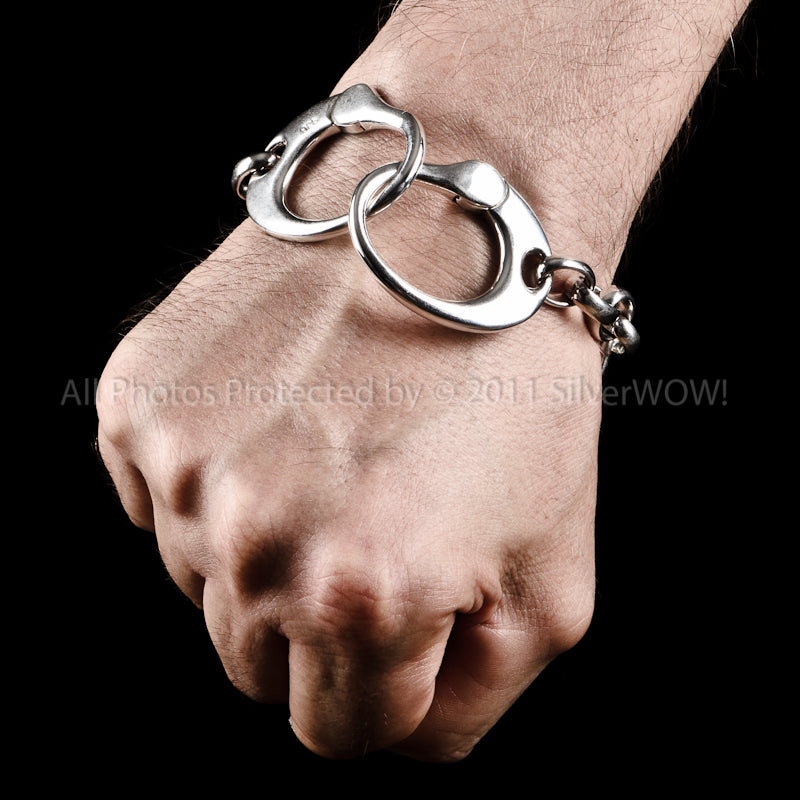 Size Guide
It is very important to get you the perfect size first time around so please carefully read over the below.
If you have already ordered & think you may have ordered the wrong size please let us know immediately.
Below is a general Size / Fit guide. See photo below on the page on how the measure your wrist.
| | |
| --- | --- |
| Actual Wrist Size | Bracelet Length required ( standard size design ) - IMPORTANT - longer needed on bigger designs. |
| Extra Small 6.5" | 7.5" ( 19 cm ) |
| Small 7" | 8" ( 21 cm ) |
| Medium 7.5" | 8.5" ( 22 cm ) |
| Large 8" | 9" ( 23 cm ) |
| Extra Large 8.5' | 9.5" ( 23 cm ) |
Important note - The above sizes are for the bracelet length as with the clasp closed/fastened - NOT the end to end measurement. Remember not all bracelets are the same when closed - so best not to base choice on different style bracelet you may already have.
MEASURING YOUR WRIST FOR AN ACCURATE BRACELET SIZE

To find your perfect bracelet size, follow these steps:
STEP 1: Measure your wrist with a flexible tape measure or a strip of paper just below the wrist bone, where you would normally wear the bracelet.
STEP 2: If you are using a plain strip of paper, mark your size with a pen or pencil then use a ruler to measure the length. That would be your wrist size.
STEP 3: To find your bracelet size, just add your wrist size with the appropriate measurements below. This will allow for movement and flexibility.
FITTING STYLE ADD INCH(ES) TO WRIST SIZE.

Comfortable Fit - Add 3/4 to 1 inch ( 2.5 cm )

Loose Fit - Add 1 to 1/4" ( 3 cm )
Example - if your wrist was 8 inch you could take a bracelet around 9 inches for a comfortable fit.
Extra Thick Bracelets you would usually need longer than the above.
This is to make up for the length lost when closing general speaking anything wider than 10mm you would need to go longer. If longer than normal is needed we usually quote this on the order page of the individual item. 
Bangles
Size based on the wrist bone measurements as suggested above.
| | |
| --- | --- |
| Actual Wrist Size | Bangle Size Recommended  |
| Extra Small - 6.5 inch (16.5 cm ) | 60 mm |
| Small 7 inch ( 18cm ) | 65 mm |
| Medium 7.5 inch ( 19 cm ) | 70 mm |
| Large 8 inches ( 21 cm ) | 75mm  |
| Extra Large 8.5  ( 22 cm ) | 80 mm |

Our Bangles are always quoted in diameter measurements.
Some Bangles may seem a little tight when putting on but once over the wrist often these same bangles would be a perfect fit. It is best to put bangles on sideways, over the soft tissue and narrowest part of your wrist.
While we produce the highest quality workmanship, silver is not an indestructible metal. Please treat your jewellery with care, for example, bangles shouldn't be pushed open or closed to fit on the wrist as it will weaken the silver and may eventually break. 
Necklaces
Necklace Lengths are very much a personal thing so hard to give specific recommendations. The absolute minimum length would be around 4 inches longer than actual neck - but most people prefer longer.
You can check your neck measurement with a piece of string or a soft tape measure.
Remember to check the weight - many our are chains are exceptionally heavy. Customers are surprised at just how big & heavy they can be. 
All are sizes are quoted as a closed / fastened / as worn measurement ( not end to end open length )
If you are still unsure of what size you need please email us.
Why Silverwow™

Since 2001, Silverwow has excelled in high-end exclusive heavy men's jewelry. Our unique designs and personalized service foster exceptional customer loyalty, outstanding reviews & masses of customer shared photos

Craftsmanship is paramount at Silverwow. Each piece is meticulously handcrafted to order, ensuring unparalleled individuality. We reject mass production, embracing uniqueness.

As a small business, we prioritize fairness and transparency for our valued customers. With unwavering commitment, we deliver exceptional quality, unmatched weight, and ultimate satisfaction.

Discover Silverwow's allure and experience exclusive men's jewelry like never before.
Customer Reviews
25/08/2022
Frank T.

United States
Outstanding every step of the way!
This transaction went great. Quick response when I placed the order. Andy contacted me to be make sure I had the right size and told me how to measure it correctly. I would have ordered the wrong size. That's real customer service….. before you need it!!! Delivered sooner than expected, and excellent quantity. I wish everything I bought went like this. You won't be disappointed. Thanks Again Andy.
05/02/2022
Stuart N.

United Kingdom
Handcuff bracelet
Looks good and feels a good weight.
14/03/2020
joanne b.

United Kingdom
01/02/2020
Patrick R.

Ireland
K.Richards Handcuff Bracelet
Ok I'll keep this simple, the Keith Richards handcuff silver type bracelet designed by SilverWow is exquisite the build quality the weight and the look of the Bracelet is stunning. The price is un-real for this amazing Silver bracelet, and the delivery time was also amazing to Dublin Ireland. To be honest I would have paid twice or three times the price for this bracelet as you will not get a piece like this with this amazing look and build quality for the price SilverWow offer the Bracelet for anywhere in my view. Andy! I applaud you Fxxking nailed the handcuff KR Bracelet it's flawless. Keep the amazing work up you have a trilled to bits customer who in the words of Arnold Schwarzenegger "I'll be back" Five Stars my Man!!!!!!!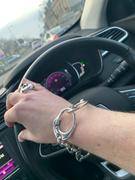 I received my item in a very ...
I received my item in a very timely manner! The bracelet came in excellent condition. It truly was all I expected. My only disappointment was I measured my wrist very accurately, my wrist is 7inches. Small I know, however it is to fit a 7-8 inch wrist. It is a little small for my liking. It does fit.. but I think it couldve used at least one more link. So my advise to anyone ordering one, maybe go just a bit oversized. It would be easier to remove a link or two at your local jeweler than have links put in. All and all, Im satisfied with it!